Anxiety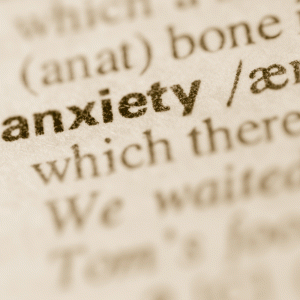 Kelly Saylor and Mary Shea
What is Anxiety?
According to the Diagnostic and Statistical Manual of Mental Disorders Fifth Edition, Anxiety disorders include having features of excessive fear, anxiety and behavioral disturbances.  The difference between fear and anxiety is the following:
Fear – emotional response to real or perceived imminent threat
Anxiety – anticipation of future threat
These are the main classifications for anxiety disorders:
Separation anxiety Disorders
Selective Mutism
Specific Phobias (i.e. animal, natural environment, etc.)
Social Anxiety Disorder (Social Phobia)
Panic Disorder
Agoraphobia
Generalized Anxiety Disorder
Anxiety Disorder Due to Another Medical Condition
Both adult men and women do face anxiety disorders but women are reported to have more anxiety disorders (approximately 2:1 ratio).
Treatment Overview:
There are many different techniques and modalities pertaining to the treatment options for anxiety disorders.  Some of the most common options, according to Dr. David Burns author of "When Panic Attacks", include the following:
-The Cognitive Model:  The basis of this model focuses on that negative thoughts and      messages cause anxiety; therefore, when you change the way you think you change the way you feel.
-The Exposure Model:  The focus of this model is that avoidance is the cause of anxiety;  therefore, the focus is systematic exposure to the feared stimuli to help overcome it.
-The Hidden Emotion Model:  This model focus is that anxiety is caused by being people pleasers and hiding emotions due to this.  Therefore, when the individual is able to  confront the issues and be honest about hidden emotions then the anxiety dissipates.
-Biological Model:  This model centers on that anxiety is caused by a chemical imbalance; therefore, the focus is correcting the chemical imbalance through taking     medication.
You can also read more in detail about treatment options at the website Helpguide.com:  https://helpguide.org/articles/anxiety/therapy-for-anxiety-disorders.htm.  A therapist would assess for the best treatment option and tailor the techniques to fit the specific type of disorder.  You can also ask your therapist to explain the modalities that they use to treat the disorder prior to starting the treatment.
Anxiety in Children and Tips for Parents:
Research studies have heavily suggested that anxiety disorders are the most common of mental disorders among children and adolescents, and are typically the earliest markers of other types of mental illness. As many as 1 in 10 children present with these disorders, and approximately half of children and adolescents with anxiety disorders also develop a secondary mental illness, such as other phobias, behavioral problems, or depression.  Anxiety often co-occurs with, or is confused with Attention Deficit Hyperactivity Disorder.
A common misconception is that we should assume that children's disorders will manifest itself in the same way that it will for adults.  Because children do not yet have the language to communicate feelings of stress, in children may manifest itself in a wide variety of ways, including both internalization of anxiety as well as behavioral responses.  Because anxiety's function in the brain is to trigger a warning of danger, a child's immediate reaction may be to behave in explosive, unmanageable ways that may resemble defiance or rage to escape the discomfort or perceived danger (see childmind.org for more details).
Common symptoms include: Extreme shyness, avoidance of others or tasks, tantrums/meltdowns, clinginess, rituals and compulsions (organizing, handwashing, etc.) that are aimed at reducing fear, reported psychosomatic symptoms (stomach aches, headaches, and frequent illness), restlessness, difficulty focusing, nightmares, difficulty sleeping, school refusal, etc.
The following are some comparisons between child anxiety and anxiety in adulthood:
Childhood statistics show that females experience disorders more frequently than males, like adult statistics. Ratios are typically 2:1, and may reach 3:1 in adolescence.
Unlike adults, children with anxiety disorders may not recognize that their fears are "irrational" or disproportionate reactions to situations. They may even complain of having auditory or visual hallucinations; these are not the typical hallucinations that are seen in other mental illnesses with psychosis, however, it may be the only way that children know how to express their experience (https://childmind.org/article/how-anxiety-leads-to-disruptive-behavior/).
Risk Factors for Child Anxiety:
Genetic factors – family history of anxiety
Parenting style:

Overprotective parents
Rejection by parents
Lack of parental warmth

Childhood adversities:

Parental divorce
Abuse/neglect
Significant/frequent transitions

Increased social media/technology use

Disconnection from emotions
Cyberbullying
Tips For Parents:
Parents play a significant role in the treatment of their child's anxiety:
Parents should consider their own anxiety levels and ways that they may be transferred in the family system
Parents can help create spaces for self-soothing in the home. They can create boxes with self-soothing items, particularly items that appeal to the senses (i.e. play-dough, wickless candles, art supplies for emotional expression, family photos)
Talk to your child's doctor about observed symptoms to guide their assessment
Create space for your child to talk about emotions and help them identify emotions
Plan for transitions and stressful events by speaking to your child about them ahead of time
Create structure and routine in your home, but be flexible
Avoid punishing children for mistakes; give ample opportunities for them to attempt it again and correct themselves
Evidence-Based Treatments for Childhood/Adolescent Anxiety:
Cognitive Behavioral Therapy
Play Therapy (a4pt.org)
Expressive Arts Therapy
Medication
Mindfulness-based exercises
Biblical Support Pertaining to Anxiety:
Fear is a topic that is throughout God's word in several different ways.  According to BibleGateway.com there are 501 occasions fear is spoke about in scripture in the Kings James Version of the Bible.  Below is a sampling of scripture pertaining to the topics of fear and anxiety provided from OpenBible.info.com from the English Standard Version (ESV) of the Bible that are wonderful to explore:
Isaiah 41:10 ESV
Fear not, for I am with you; be not dismayed, for I am your God; I will strengthen you, I will help you, I will uphold you with my righteous right hand.
Do not be anxious about anything, but in everything by prayer and supplication with thanksgiving let your requests be made known to God. And the peace of God, which surpasses all understanding, will guard your hearts and your minds in Christ Jesus.
Psalm 56:3 ESV
When I am afraid, I put my trust in you.
2 Timothy 1:7 ESV
For God gave us a spirit not of fear but of power and love and self-control.
Deuteronomy 31:6 ESV
Be strong and courageous. Do not fear or be in dread of them, for it is the Lord your God who goes with you. He will not leave you or forsake you."
Psalm 34:4 ESV
I sought the Lord, and he answered me and delivered me from all my fears.
Matthew 6:25-34 ESV
"Therefore I tell you, do not be anxious about your life, what you will eat or what you will drink, nor about your body, what you will put on. Is not life more than food, and the body more than clothing? Look at the birds of the air: they neither sow nor reap nor gather into barns, and yet your heavenly Father feeds them. Are you not of more value than they? And which of you by being anxious can add a single hour to his span of life? And why are you anxious about clothing? Consider the lilies of the field, how they grow: they neither toil nor spin, yet I tell you, even Solomon in all his glory was not arrayed like one of these. …
1 Peter 5:6-7 ESV
Humble yourselves, therefore, under the mighty hand of God so that at the proper time he may exalt you, casting all your anxieties on him, because he cares for you.
Joshua 1:9 ESV
Have I not commanded you? Be strong and courageous. Do not be frightened, and do not be dismayed, for the Lord your God is with you wherever you go."
1 John 4:18 ESV
There is no fear in love, but perfect love casts out fear. For fear has to do with punishment, and whoever fears has not been perfected in love.
1 Peter 5:7 ESV
Casting all your anxieties on him, because he cares for you.
Isaiah 35:4 ESV
Say to those who have an anxious heart, "Be strong; fear not! Behold, your God will come with vengeance, with the recompense of God. He will come and save you."
John 14:27 ESV
Peace I leave with you; my peace I give to you. Not as the world gives do I give to you. Let not your hearts be troubled, neither let them be afraid.
Exodus 14:14 ESV
The Lord will fight for you, and you have only to be silent."
Proverbs 12:25 ESV
Anxiety in a man's heart weighs him down, but a good word makes him glad.
Matthew 6:34 ESV
"Therefore do not be anxious about tomorrow, for tomorrow will be anxious for itself. Sufficient for the day is its own trouble.
Psalm 118:6 ESV
The Lord is on my side; I will not fear. What can man do to me?
Romans 8:28 ESV
And we know that for those who love God all things work together for good, for those who are called according to his purpose.
Hebrews 13:8 ESV
Jesus Christ is the same yesterday and today and forever.
Resources for additional information:
Websites:
Charlotte Anxiety Consortium http://www.charlotte-anxiety.org/
Anxiety and Depression Association of America https://adaa.org/
Helpguide.org (overview of Anxiety) https://www.helpguide.org/home-pages/anxiety.htm
OpenBibleInfo (What does the Bible say about fear and Anxiety) https://www.openbible.info/topics/fear_and_anxiety
BibleGateway.com (Number of times "Fear" is in the Bible in Kings James Version) https://www.biblegateway.com/quicksearch/?quicksearch=fear&qs_version=KJV
Books:
Emotionally Healthy Spirituality – Peter Scazzero
Simplicity – Caliguire
Letting Go of Worry – Mintle
When Panic Attacks – David D. Burns
The Obsessive Compulsive Trap – Dr. Mark Crawford
Vlog:
Why Counseling Works – Kelly Saylor