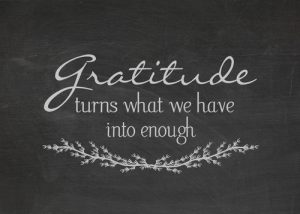 Importance of Gratitude!
In the season of Thanksgiving it is important to be reminded how significant gratitude is in our lives and how important it is to live out each day!  A treasured story about the power of gratitude even in the hardest of times comes from what the Bible scholar Matthew Henry.  He wrote the following in his diary after being robbed by thieves:
"Let me be thankful first because I was never robbed before; second, although they took my purse, they did not take my life; third, because, although they took my all, it was not much; and fourth, because it was I who was robbed, not I who robbed another."
We see the power of how living a life centered in gratitude will give us the answers and directions for our thoughts even in the hardest situations.  It is not surprising that the Bible has so much to say on this topic.  Here are a few scriptures of this topic (so many to choose from):
Give thanks in all circumstances; for this is the will of God in Christ Jesus for you.
Philippians 4:6 ESV
Do not be anxious about anything, but in everything by prayer and supplication with thanksgiving let your requests be made known to God.
Psalm 107:1 ESV
Oh give thanks to the Lord, for he is good, for his steadfast love endures forever!
Psalm 7:17 ESV
I will give to the Lord the thanks due to his righteousness, and I will sing praise to the name of the Lord, the Most High.
But thanks be to God, who in Christ always leads us in triumphal procession, and through us spreads the fragrance of the knowledge of him everywhere.
Psalm 50:23 ESV
The one who offers thanksgiving as his sacrifice glorifies me; to one who orders his way rightly I will show the salvation of God!"
Isaiah 12:1-6 ESV
You will say in that day: "I will give thanks to you, O Lord, for though you were angry with me, your anger turned away, that you might comfort me. "Behold, God is my salvation; I will trust, and will not be afraid; for the Lord God is my strength and my song, and he has become my salvation." With joy you will draw water from the wells of salvation. And you will say in that day: "Give thanks to the Lord, call upon his name, make known his deeds among the peoples, proclaim that his name is exalted. "Sing praises to the Lord, for he has done gloriously; let this be made known in all the earth. …
Ephesians 5:20 ESV
Giving thanks always and for everything to God the Father in the name of our Lord Jesus Christ,
Hebrews 12:28 ESV
Therefore let us be grateful for receiving a kingdom that cannot be shaken, and thus let us offer to God acceptable worship, with reverence and awe,
Psalm 100:1-5 ESV
A Psalm for giving thanks. Make a joyful noise to the Lord, all the earth! Serve the Lord with gladness! Come into his presence with singing! Know that the Lord, he is God! It is he who made us, and we are his; we are his people, and the sheep of his pasture. Enter his gates with thanksgiving, and his courts with praise! Give thanks to him; bless his name! For the Lord is good; his steadfast love endures forever, and his faithfulness to all generations.
We have countless stories of people who go through life's hardest times with success and healing due to gratitude (i.e. Ann Voskamp "One Thousand Gifts"), scripture says so much concerning the need for us to live a daily life in gratitude and studies in Psychology show us gratitude is healthy thinking and practicing healthy thinking heals toxic thinking in the brain (i.e. Dr. Caroline Leaf "Switch on Your Brain").  Therefore, I encourage you to make this Thanksgiving season extra special!  Start today a pattern of living a grateful life:
*Start a Gratitude Journal or Blog.
*Have an agreement with someone that you two will say things you are grateful for everyday.
*Dedicate time in pray about gratitude daily.
There are so many ways to approach this in your life!  Just think about how this will can change your thought life and overall health!
~Kelly