Random Acts of Kindness Week!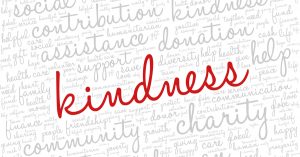 This week celebrates "Random Acts of Kindness Week".  What a fun challenge…not to mention an incredibly healthy mental health practice!  As we all think through this challenge and how we can purposefully show more kindness this week, let's take a moment and learn a little about what God's word says about the topic of kindness!
Ephesians 4:32 ESV
Be kind to one another, tenderhearted, forgiving one another, as God in Christ forgave you.
Proverbs 11:17 ESV
A man who is kind benefits himself, but a cruel man hurts himself.
Colossians 3:12 ESV
Put on then, as God's chosen ones, holy and beloved, compassionate hearts, kindness, humility, meekness, and patience,
Proverbs 31:26 ESV
She opens her mouth with wisdom, and the teaching of kindness is on her tongue.
Love is patient and kind; love does not envy or boast; it is not arrogant or rude. It does not insist on its own way; it is not irritable or resentful; it does not rejoice at wrongdoing, but rejoices with the truth. Love bears all things, believes all things, hopes all things, endures all things.
Proverbs 19:17 ESV
Whoever is generous to the poor lends to the Lord, and he will repay him for his deed.
Galatians 5:22 ESV
But the fruit of the Spirit is love, joy, peace, patience, kindness, goodness, faithfulness,
1 John 3:17 ESV
But if anyone has the world's goods and sees his brother in need, yet closes his heart against him, how does God's love abide in him?
Acts 20:35 ESV
In all things I have shown you that by working hard in this way we must help the weak and remember the words of the Lord Jesus, how he himself said, 'It is more blessed to give than to receive.'"
Ephesians 4:29 ESV
Let no corrupting talk come out of your mouths, but only such as is good for building up, as fits the occasion, that it may give grace to those who hear.
Romans 2:4 ESV
Or do you presume on the riches of his kindness and forbearance and patience, not knowing that God's kindness is meant to lead you to repentance?
As for you, brothers, do not grow weary in doing good.
Have a wonderful week taking every opportunity to show and celebrate kindness! 
~Kelly Saylor