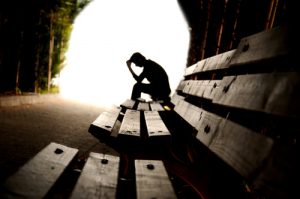 April 1st – April 30th is "Stress Awareness Month". What is stress? The dictionary defines stress as a state of mental or emotional strain or tension resulting from adverse or very demanding circumstances. Most people know what stress is and usually have unique ways of describing their stress. I recently experienced a very stressful moment. The other night after a long day of counseling sessions, I sat down to relax a little and I took one last look at my emails.  I noticed I had a reminder email that this blog on stress was due in three days. I had begun doing some work on this a few weeks ago but forgot about it when I put it aside to focus on completing and filing my income tax, which would be due in a few days. Another very stressful thing in most of our lives.
Hmm, I wonder if it's just a coincidence that April is named "Stress Awareness Month". Seeing the reminder about the blog, I let out a big "OH NO" and the email looked like there were hot flames shooting up around it and the email print looked as though it was written in blood red. We all have unique ways to describe the stress we may be feeling- you know "the elephant sitting on my chest". "I think I am going to throw up", "It feels like the walls are caving in on me" just to name few. The physical feelings may be real.
Is Stress the same as Anxiety?
We've all felt the tightening and heart-thumping effects of stress. Job stress, financial stress, stress in families and relationships and many other life experiences can cause stress. Stress is really a hormone, a sudden release of adrenaline that negatively impacts our moods and emotions and elevates our blood pressure. While anxiety is not the same as stress, it can result from being put under stress. This negative stress response will overcome all other stress responses with intense fear, worry, and disabling dread that the individual will be literally incapacitated by jitters, chest pains, dizziness, and shortness of breath, fainting, and a panic attack.
What Causes Stress
Typically stress arrives from an exterior motivator or a stressful situation.  You may have too much going all at once which can make you feel angry, frustrated, nervousness or crying. However, once you can remove yourself from the stressful situation the negative emotions will subside. Anxiety unlike stress will continue to linger even after the stressful situation is removed.
Most of us can remember how our minds go blank during an exam, when there are increased levels of the stress hormone cortisol it can both boost memory and hinder. Recent research looking at more than 1,200 individuals found that when people whose cortisol stay higher during memory recall  it can make more challenging to retrieve specific memories. "Stress and cortisol strongly influence memory and are highly important modulators of learning and memory mechanisms," says lead author Sandra Ackermann of the University of Basel in Switzerland. "In the brain, cortisol binds to receptors that are found in the hippocampus and amygdala, which are important brain regions for learning and memory. Past work has found that inducing stress, thereby increasing cortisol, during or after learning benefits memory consolidation, while increasing cortisol during retrieval hinders recall. Furthermore, chronically elevated cortisol levels seem to impair memory".
Common effects of Stress
The symptoms of stress could be affecting your health without you realizing it. Often when we have that nagging headache, frequent insomnia or your decreased productivity at work we often blame it on an illness of sorts. Stress symptoms can affect your body, your thoughts and feelings, and your behavior. Being able to recognize common stress symptoms can give you a jump on managing them. Stress that's left unchecked can contribute to many health problems, such as high blood pressure, heart disease, obesity and diabetes.
Stress on your body
Headache                                                        Muscle tension or pain
Chest pain                                                       Fatigue
Change in sex drive                                        Stomach upset
Sleep problems
Stress on your mood
Anxiety                                                           Restlessness
Lack of motivation or focus                       Feeling overwhelmed
Irritability or anger                                      Sadness or depression
Stress on your behavior
Overeating or under eating                        Angry outbursts
Drug or alcohol abuse                                 Tobacco use
Social withdrawal                                         Exercising less often
How to help manage or reduce your stress levels.
Avoid Caffeine, Alcohol, and Nicotine
Indulge in Physical Activity
Get More Sleep
Try Relaxation Techniques
Talk to a Counselor
Keep a Stress Diary
Take Control and manage Your Time
Learn to say "No"
Get rest if you are ill
Stress is a common problem for everyone. If you are involved in living, having relationships, have a job, or any of the many responsibilities that comes with life you will have times when you get stressed out. Even Jesus witnessed firsthand the stress common to most people. And God in His mercy and kindness gives us ways to handle and or avoid stress. Below are 10 verses of the many verses from the Bible the Lord has given to help and reduce stress.
Philippians 4:6–Do not be anxious about anything, but in everything by prayer and supplication with thanksgiving let your requests be made known to God.
John 14:27 -Peace I leave with you; my peace I give to you. Not as the world gives do I give to you. Let not your hearts be troubled, neither let them be afraid.
Psalm 55:22 – Cast your burden on the Lord, and he will sustain you; he will never permit the righteous to be moved.
Psalm 118:5-6– Out of my distress I called on the Lord; the Lord answered me and set me free. The Lord is on my side; I will not fear. What can man do to me?
Proverbs 12:25– Anxiety in a man's heart weighs him down, but a good word makes him glad.
Romans 8:31– What then shall we say to these things? If God is for us, who can be against us?
Matthew 11:28-30– Come to me, all who labor and are heavy laden, and I will give you rest. Take my yoke upon you, and learn from me, for I am gentle and lowly in heart, and you will find rest for your souls. For my yoke is easy, and my burden is light."
Matthew 6:34-Therefore do not be anxious about tomorrow, for tomorrow will be anxious for itself. Sufficient for the day is its own trouble.
Joshua 1:9– Have I not commanded you? Be strong and courageous. Do not be frightened, and do not be dismayed, for the Lord your God is with you wherever you go."
Philippians 4:6-7 – Do not be anxious about anything, but in everything by prayer and supplication with thanksgiving let your requests be made known to God. And the peace of God, which surpasses all understanding, will guard your hearts and your minds in Christ Jesus.
1 John 4:18– There is no fear in love, but perfect love casts out fear. For fear has to do with punishment, and whoever fears has not been perfected in love.
Luke 12:22 – And he said to his disciples, "Therefore I tell you, do not be anxious about your life, what you will eat, nor about your body, what you will put on.
1 Peter 5:7; Casting all your anxieties on him, because he cares for you.
2 Timothy 1:7– For God gave us a spirit not of fear but of power and love and self-control.
All Scripture is from the ESV, The English Standard Version Translation.
Jim Katsoudas