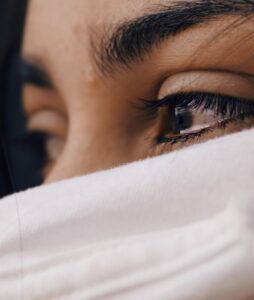 The core wound, "I am unworthy" may be triggered by various circumstances in one's life however, in the following it will be addressed from the perspective of a sexually betrayed female partner. The crisis of sexual addiction in society today affects many men and women unfortunately. When a betrayed female partner discovers her spouse has a sexual addiction the core wound of "I am unworthy" is most certainly triggered. In Stacy Eldredge's book "Captivating" she describes the heart of a woman begging the question "Am I lovely? Do you delight in me?" Imagine the feelings of unworthiness swimming through the mind of a betrayed partner when discovering her spouse has decided to delight in other people/images.
According to a study done by the Barna group in 2014 and reported by Proven Men Ministries (https://www.restoringheartscounseling.com/2020/12/21/is-porn-addiction-a-problem-in-your-church/) "The statistics for Christian men between 18 and 30 years old are particularly striking:
77 percent look at pornography at least monthly.
36 percent view pornography on a daily basis
32 percent admit being addicted to pornography (and another 12 percent think they may be).
The statistics for middle-aged Christian men (ages 31 to 49) are no less disturbing:
77 percent looked at pornography while at work in the past three months.
64 percent view pornography at least monthly.
18 percent admit being addicted to pornography (and another 8 percent think they may be).
Even married Christian men are falling prey to pornography and extramarital sexual affairs at alarming rates: -55 percent look at pornography at least monthly while 35 percent had an extramarital affair.
In working with betrayed partners, finding and naming boundaries is very helpful in order to stabilize and empower them to find an identity again, an identity which speaks "Yes I am worthy!" When betrayed partners find their voices, it helps them to change the message "I am unworthy" to one that states, "I am worthy of love, faithfulness, sexual fidelity, trust, etc." Often it takes time for betrayed partners to find their way out of the darkness of shock, fear, sadness, anger, grief and hopelessness about their pasts, present and futures. By helping betrayed partners create and execute boundaries the unworthiness they experience slowly dissipates and they often emerge as a stronger person.
Other ways betrayed partners can move away from "I am unworthy" is understanding family of origin rules, attachment with parents, spoken and unspoken family rules, and family roles that were taken on as a child. It is not uncommon for betrayed partners to discover the wound of "I am unworthy" from experiences with family of origin.  Betrayed partners sometimes end up healing their present wounds of unworthiness by exploring the truth about messages of unworthiness that were communicated by family members when they were just a child.
The following are recommended resources if you or someone you know is struggling with sexual betrayal; "Intimate Deception" by Sherri Keffer, "Moving Beyond Betrayal" by Vicki Palmer, and "Facing Heartbreak" by Anthony Rodriguez, Stefanie Carnes & Mari A. Lee.
-Susan Steier –  https://surehopecounseling.com/susan-steier-counselor-for-partners-of-sexual-addiction/