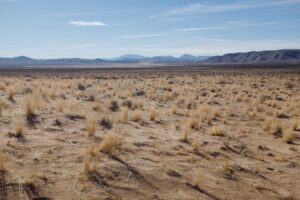 El Roi -"The God Who Sees Me"
"I've been forgotten, and my heart feels so heavy and weak. Why was I not enough? What could I have done differently? What did I do to be treated like this, or is this something I just deserved?". These are just some of the things that I believe Hagar may have asked or believed about herself. She had been caught in the aftermath of jealousy and impatience of another person.
If you are unfamiliar with the story of Hagar I encourage you to read her whole story in Genesis 16, but I'll give you a brief overview for now.
Hagar was the Egyptian servant to Sarai and Abram. At this time Sarai was unable to have children, and after praying and waiting on the child that was promised to them, Sarai was unable to bear the burden of not having a child any longer. Out of the pain of feeling like she was unable to meet the expectations of her husband, or maybe even the other people around her, Sarai told Abram to go be with Hagar to conceive a child. From the time Hagar was pregnant there was tension between the two women. This caused Hagar to flee from Sarai and Abram into the wilderness, and while she was there a messenger of God came to her and told her to go back. God then gave a promise to multiply her offspring, so Hagar did as the Lord said and went back to Abram and Sarai. This is the moment where she names God, "El Roi" which means the God Who Sees. After going back she was banished once again to the wilderness by Abram, and again God remained faithful to her and her son.
Now that we have a working idea of what Hagar's story was, I am wondering if you can relate to what she was experiencing. Maybe you aren't out in a physical wilderness, but you feel as if your soul is? Maybe you've been caught in the crossfire of other people's hurts and it has left you questioning your worth? Maybe you are left feeling unimportant and overlooked despite feeling you've given your best efforts? We are greatly impacted both positively and negatively by the relationships around us. Sometimes the wounds others experience are then passed down to us in some form. BUT (This is my favorite about living in the promises of our God there is always another side to the story), El Roi. He sees you, He hears you, and He wants to comfort you.
What are some things that attack our self worth?
Having a difficult childhood background
Trauma
Relationship ruptures such as: familial cutoff, marital discord, divorce, etc.
Chronic medical issues
Social problems
At this point, if I were you, I would be wondering about what comes next and how do we get out of the wilderness. An important part of Hagar's story is the moment we get to see when God comes into the picture. For so long Hagar had dealt with other people making decisions about her story or trying to attack her worth. The Bible first introduces her as a "slave" and then she was seen as a "problem" to get rid of. Hagar was being directly impacted by the actions and labels put on her by the people around her. I am sure that she struggled with internalizing these labels, but then God came on the scene. He acknowledges her worth and starts to rewrite her narrative.
Questions and challenges to consider:
If you are experiencing life in the wilderness, I am curious what core wounds are dictating your story?
What kind of things are these wounds trying to tell you about yourself?
When the harsh actions and words of people around you come knocking at your door, what truths are you able to remind yourself of?
Are you able to sift through the dust to engage with El Roi? While He may be able to see you, what are some ways that you can begin to see Him as well?
Who are safe people right now in your life that can remind you of worth when it feels hard to see for yourself?
If you could only see yourself in the best light for just five minutes, and someone asked you how to describe yourself, what would be some of the things you would say?
What are some scriptures, songs, or moments that remind you of the great worth that you hold in this world?
You are seen, loved, and hold more value in the eyes of Our Father than you will ever be able to comprehend.
"In fact, even the hairs on your head are all numbered. Do not be afraid; you are more valuable than many sparrows." – Luke 12:7
"But those who hope in the Lord will renew their strength. They will soar on wings like eagles; they will run and not grow weary, they will walk and not be faint." – Isaiah 40:31
"Therefore, do not throw away your confidence, which has a great reward. For you have need of endurance, so that when you have done the will of God, you may receive what was promised." – Hebrews 10:35–36
-Leah Willis