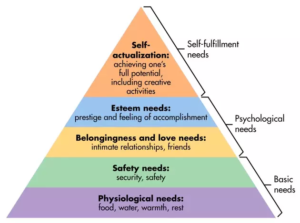 As humans we desire to be known and connected intimately and deeply to others. This is evident in our evolution and integral in our psychological needs. We can see this in Maslow's Hierarchy of Needs, which depicts a five tier model of human needs in a hierarchical fashion. From the bottom of the hierarchy upwards, the needs are: physiological (food and clothing), safety (job security), love and belonging needs (friendship), esteem, and self-actualization. In order to progress, according to Maslow, needs lower down in the hierarchy must be satisfied before individuals can attend to needs higher up. After physiological and safety needs have been fulfilled, the third level of human needs is social and involves feelings of belongingness. This is a human's emotional and psychological need for interpersonal relationships and connectedness. Examples of belongingness are friendship, intimacy, trust, acceptance, mutual affection, care and consideration, and love.
We all, at one point or another in this life, separate ourselves away from belongingness and love needs, and core wounds are many times at the root of this separation. The core wound creates a belief system about the self which often leads to compensating behaviors to manage the emotional pain. The core wound wants us to believe and cultivate the fear that we are lacking in some major way such as being unwhole, inadequate, loveless, powerless, incomplete, alone, non-existent, worthless, imperfect and not enough to be unconditionally loved as we really are.
Attachment to our caregivers plays a large role in the cultivation of core wounds, specifically ones that perpetuate the separation from love and feelings of connectedness and belonging. According to John Bowlby and Mary Ainsworth, foundational attachment theorists, attachment with the primary caregiver develops during the first 18 months or so of the child's life. Attachment develops as caregivers respond to the baby's needs in warm, sensitive and consistent ways, such as when a baby is sick, upset or distressed. Attachment also builds as caregivers go about their daily routines with their baby, caring for them and interacting with them.
The core wound of "I am unknown" like other core wounds develops as a result of an emotionally significant event(s) in childhood that shaped the view of self, others, and the world. Children are ideally free, trusting, and secure until an event and/or other factor(s) (i.e., environmental, genetic predisposition) occurs that compromises this. Yet, God assures us that He knows us and will provide us with healing so that we can experience greater freedom and security despite what we have experienced and what has caused us pain and suffering. Both His presence and his Word can encourage us even in the midst of hurt and walking out healing. He relates to our earthly trials, because he faced physical, emotional and spiritual agony during his time on Earth. One of the beauties of God is that He went through pain and also knows about our pain. His heart disposition is not to overlook us:
"The Lord is near to the brokenhearted and saves the crushed in spirit (Psalm 34:18)."
He also makes it clear that He knows us deeply and intimately and values us:
"But you, O Lord, know me; you see me, and test my heart toward you (Jeremiah 12:3)."
"For now we see in a mirror dimly, but then face to face. Now I know in part; then I shall know fully, even as I have been fully known (1 Corinthians 13:12)."
"Are not five sparrows sold for two pennies? Yet not one of them is forgotten by God. Indeed, the very hairs of your head are all numbered. Don't be afraid; you are worth more than many sparrows (Luke 12:6-7)."
God knows every hair on your head–every single one of them. He also knows about every wound, thought and emotion that causes pain and suffering. He desires for us all to find security, comfort and identity in Him especially when we are face to face with internal and external sources of hurt and maltreatment.
1 Peter 2:9-10 reminds us that under the new covenant we are a new spiritual race, in Christ, that is not based on our family, ethnicity, race, country of origin, past, or wounds but simply because we belong to the Father. We are known to Him.
"But you are a chosen race, a royal priesthood, a holy nation, a people for his own possession, that you may proclaim the excellencies of him who called you out of darkness into his marvelous light. Once you were not a people, but now you are God's people…"
With that being said, exploring the core wound of "I am unknown" and walking out healing can be so much more powerful and helpful when done at the feet of Jesus and with safe and trusting sources of support. Pushing back on the lie that it is better to do the healing work in isolation exposes the wound and brings forth what is lurking and being perpetuated in darkness. It allows both God and safe people to speak truth over the lies and loosen its chains.
Psalm 91:14-16 (ESV) speaks of God's care and tenderness towards us and the truth that he knows and wants peace and healing for us:
14 "Because he holds fast to me in love, I will deliver him;
I will protect him, because he knows my name.
15 When he calls to me, I will answer him;
I will be with him in trouble;
I will rescue him and honor him.
16 With long life I will satisfy him
and show him my salvation."
Remember, you are known by God. He knows your name and everything about you. He sees all of your pain and desires for you to be free of the core wounds that keep you in emotional, mental, physical and spiritual bondage. He desires for the lie that you are unknown to be laid at His feet and for you to boldly and courageously walk out healing and freedom in Him.
-Carlyn Wood – https://surehopecounseling.com/therapists-christian-counselors/carlyn-wood-grief-counseling-transition-counseling-christian-counseling/