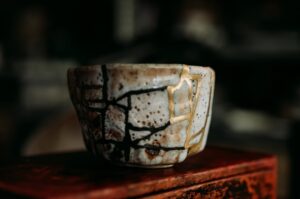 How did you feel, just reading the title of this blog post? Has this ever been you? Has this been your story for some time? If you've been following along in our core wounds series, you'll know that we have been exploring the beliefs about ourselves that have developed and prevented us from growing and thriving. Today we explore the core wound or core belief that you are weak, helpless, or powerless.
Individuals that struggle with this core wound may suffer from chronic anxiety and depression. The common thoughts or feelings that may coincide with this wound include:
"I must have control" or "I don't have control"
"There's no way out" – feeling stuck
"People will hurt me" – feeling that people are untrustworthy
"The world is not safe"
A sense of resentment towards and/or betrayal by others
Attachment theory tells us that the way our caregivers responded to our needs affects the way we bond with our spouses and carry on in our relationships—it also shapes the way we see the world and our emotional development. Individuals who deal with this core wound may have an anxious or disorganized attachment style that may result from childhood abuse or domineering or controlling caregivers. It could also stem from caregivers who were inconsistent in their responses, sometimes being in sync with their child and sometimes being dismissive or controlling, creating anxiety in the relationship. The core wound of someone with a disorganized or fearful attachment style is that love is pain. This may naturally lead to the belief that one is weak, helpless, or powerless.
So how might one with this core wound respond to the world? How might their behaviors and proclivities manifest themselves? Let's take a look:
Falling into addictions of substances, sex, or shopping to compensate for feeling powerless
They may develop a compensating personality – to prove that they are not powerless, they may act overly powerful. For those with a disorganized attachment style, this could result in narcissistic tendencies or narcissistic personality disorder.
Avoidance of difficult life situations or social situations
An experience of deep shame. Nathanson (1992) developed the Compass of Shame to further describe the four ways that individuals may respond to feelings of shame. This includes:

Withdrawal: isolation/hiding
Attack Self: self-criticism or self-harm
Avoidance: Denial or addictions (as mentioned above)
Attack others: blaming or lashing out
It's clear that this core wound of feeling weak, powerless, or helpless is not from God. And we know from scripture that God uses this weakness for His good and our glory. Here are some verses to reflect on if this is you:
Romans 5:6 – For while we were still helpless, at the right time, Christ died for the ungodly.
2 Corinthians 12:10 – Therefore I take pleasure in infirmities, in reproaches, in needs, in persecutions, in distresses, for Christ's sake. For when I am weak, then I am strong.
2 Corinthians 12:9 – But he said to me "my grace is sufficient for you, for my power is made perfect in weakness." Therefore I will boast all the more gladly about my weaknesses, so that Christ's power may rest on me.
Isaiah 40:29 – He gives strength to the weary and increases the power of the weak
Romans 8:26 – In the same way, the Spirit helps us in our weakness. We do not know what we ought to pray for, but the Spirit himself intercedes for us through wordless groans
2 Corinthians 4:7-12 — But we have this treasure in jars of clay to show that this all-surpassing power is from God and not from us. We are hard pressed on every side, but not crushed; perplexed, but not in despair; persecuted, but not abandoned; struck down, but not destroyed. We always carry around in our body the death of Jesus, so that the life of Jesus may also be revealed in our body. For we who are alive are always being given over to death for Jesus' sake, so that his life may also be revealed in our mortal body. So then, death is at work in us, but life is at work in you.
Have you ever heard of the Japanese practice of kintsugi? Like the concept of the "jars of clay" the Japanese repair their fragile, broken pottery with gold rather than hiding the breakage or disposing of the object. The gold highlights the brokenness. Our fragile jars of clay carry the light of the gospel, and God never tries to hide our brokenness—only to heal it, highlight it, and use it for good. How has God highlighted your brokenness or weakness? In what ways has he provided strength for you? How do you think God sees your weakness? I hope you can allow God to practice kintsugi on your wounds.
If you're looking for someone to help you process this or other core wounds, visit our website to find a therapist. And keep following along as we focus on core wounds this year!
-Mary Shea – https://surehopecounseling.com/mary-moussa-shea-child-therapy/