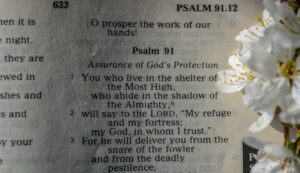 An essential component of positive psychology is the focus on strengths versus weaknesses. What I find appealing about this is that it is an exception to the problem saturated, damaged model approach that is often at the forefront in addressing psychological and spiritual distress. Of course, our spiritual and emotional suffering is born out of some kind of problem. Damage has been done and we ought not deny that. However, we also should not deny what is good amid our pain, what is operational when so many things are dysfunctional.
Psychological problems tend to limit our perception. For example, when we are depressed, we can certainly be tempted to hone in on what is not good. Perhaps it is better to say while in a depressed state it is easy to notice what is absent versus what is present. Here is one definition that makes this point clear, "Someone who is in a sustained depressed mood experiences the feelings of being pushed down-de-pressed– by a world that has for the most part been renounced because of a negative experience or loss. . . even losing the possibility of acquiring someone or something highly valued-is cause to feel an emptiness, a hole in our life where that person or entity once resided, or could have occupied had things turned out better" (Rene J. Muller, 104).
The Psalmist describes his experience of depression as his soul being "cast down" (Psalm 42). The Hebrew for this (sahah) translates into a soul that is humbled, reduced and weakened.  Yet the Psalmist in his deprived state has a thirst for what is good (Psalm 42:1-2). It is a spiritual thirst for God that is quenched by the God who created us body and soul. It is in the spiritual realm and in our spiritual make up (though not exclusively) where we can meet with God (Rom.8:16), be strengthened (Isa.41:10) and discover what is functional despite other areas of limitation. In our distress, directing our attention to that which is spiritual can be eye opening and transformative.
In Logotherapy the spiritual part of us has been labeled the medicine chest. When you open this chest, you will find things like a willingness to find meaning/purpose, goals, creativity, imagination, compassion, forgiveness, commitment, identity, love and humor (Dezelic, p.41, Meaning Centered Therapy Workbook). Correspondingly, Scripture informs us that the fruit of the Spirit is, "love, joy, peace, longsuffering, kindness, goodness, faithfulness, gentleness, self-control" (Gal.5:22).  Accessing the spiritual part of us affords us the opportunity to be set free to actualize what is good and meaningful. It holds the promise of healing at deeper levels of our being that transcend any physiological or psychological limits we may have.
Returning to Psalm 42. The Psalmist mourns what he used to have (v.4). Yet he exercises his faithfulness to God, "Put your hope in God, for I will yet praise him, my Savior and my God" (v.5,11).  The Psalmist uses his freedom of choice to worship God in his suffering and in doing so makes it known to himself (and others) that you do not need to be in the House of God to praise Him, and that no matter what you are facing worshiping Him in an option. Note too that worship can and does lead to a heart of gratitude as we remember the things about God that are worthy of praise (v.8,11).  Moreover, gratitude has been shown to alleviate depression not to mention other health benefits (7 Scientifically Proven Benefits of Gratitude | Psychology Today).
In reference to the medicine chest described above, Dezelic describes what we find in this chest (freedom of choice, purpose, values, love, etc.) as jewels.  She then invites her readers to write about each of these jewels and to provide examples of where they see these in their lives. Dezelic continues by inviting us to draw a large jewel and to fill this jewel with the many facets (values, humor, creativity, morality, compassion, etc.) to be reminded of our strengths as well as what we may want to add into our lives.
The symbol of a jewel is fitting. Jewels are hidden in gravel, dirt and embedded in rock. At first glance it is difficult to appreciate the good/beautiful thing that lies underneath because it has yet to be revealed by scraping, sifting, digging and washing. In similar fashion, our psychological struggles can cast a hard layer over our spiritual lives, and it takes some digging to excavate the beauty and power hidden therein that holds great value for our healing.  God has created us a composition of body and spirit. It is when His Spirit takes up residence in our lives with the capacity He has bestowed upon us in our spiritual selves (Rom.8:23) that creates the opportunity to discover freedom, strength, direction, perseverance, and purpose (John 16:13, Rom.8:15, Gal.4:6).
-Ken Grano, MDiv., CFBPPC – Work with Ken here!