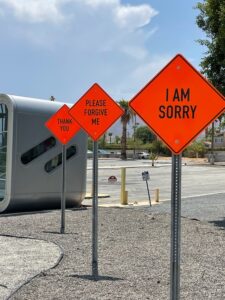 Maybe you've repeatedly been given the silent treatment after you've wronged someone or even after an apology and you weren't sure when it would end. Maybe you've felt like you were forced to "earn" forgiveness by groveling. Perhaps you have reached rock bottom and it feels like getting up is impossible, or you've felt the weight of a grudge held against you for many, many years. Maybe shame leads you to be unable to forgive yourself. All of these may contribute to the core wound: I am unforgivable.
From a psychological perspective, why does forgiveness matter? If you're reading this, you're likely on the receiving end of unforgiveness. Or you perceive that you cannot be forgiven. Or as I mentioned before, perhaps you have little practice in forgiving yourself or accepting forgiveness from others. Let's take a look at the psychological, mental, and physical impact.
Johns Hopkins Medicine states that the ability to forgive lowers our risk of heart attack, improves our cholesterol and sleep, decreases blood pressure, anxiety, depression, and stress. They explain that our hurt and anger manifest themselves in physical symptoms that can put us into chronic fight-or-flight mode, lowering one's immune response.
The American Psychological Association links forgiveness to lower mortality rates and generally improved well-being as well as increased self-esteem.
Another study published in BMC Psychology suggested that "spiritually motivated forgiveness was associated with greater positive affect and lower depressive symptoms." Those that forgave more, showed lower loneliness and hopelessness, regardless of age, race, marital status, and other factors.
So you can see that struggling with this core wound, whether you are the forgiver or in need of forgiveness, is significant. Ultimately, this core wound has similar roots to other core wounds that we have explored. Some of these include:
I don't measure up
I am incapable
I am unworthy
When you dig deep, the real wound here is shame. Shame tells us that, at our core, our hearts, our roots, we are so bad that redemption is impossible. We know from Scripture that "we all fall short of the glory of God" (Romans 3:23) and that we are all slaves to sin (Romans 7:14). However, this understanding that we have a depraved nature, in need of a Savior, is not the same as the shame that we often become enslaved to. Understanding that truth leads to humility, conviction, and change as long as we understand the Gospel. Shame, however, is not a result of the message of the Gospel. That kind of shame pervades every area of our lives. It leads us to depression, anxiety, broken relationships, inability to serve and use our gifts, and unable to see anything except for our failures. This is exactly what Christ came to redeem. The message of forgiveness and being forgiven is clear in Scripture. It tells us how forgiveness is handled in our vertical relationship with God and our horizontal relationship with others. So let's take a look:
Forgiveness in our Vertical Relationship with God:
1 John 1:9 (ESV) – "If we confess our sins, he [God] is faithful and just to forgive us our sins and to cleanse us from all unrighteousness."
Psalm 103:10-14 (ESV)
He does not deal with us according to our sins,
nor repay us according to our iniquities.
For as high as the heavens are above the earth,
so great is his steadfast love toward those who fear him;
as far as the east is from the west,
so far does he remove our transgressions from us.
As a father shows compassion to his children,
so the Lord shows compassion to those who fear him.
Acts 3:19 – "Repent therefore, and turn again, that your sins may be blotted out."
Romans 6:6 – "We know that our old self was crucified with Him in order that the body of sin might be brought to nothing, so that we would no longer be enslaved to sin."
Romans 8:1 – "There is therefore now no condemnation for those who are in Christ Jesus."
Micah 7:18 (NIV) – "Who is a God like you, who pardons sin and forgives the transgression of the remnant of his inheritance? You do not stay angry forever but delight to show mercy."
Romans 5:6-9 (NIV) – "You see, at just the right time, when we were still powerless, Christ died for the ungodly. Very rarely will anyone die for a righteous person, though for a good person someone might possibly dare to die. But God demonstrates his own love for us in this: While we were still sinners, Christ died for us.  Since we have now been justified by his blood, how much more shall we be saved from God's wrath through him!"
In these verses we see a God who desires to forgive and who delights in seeing us turn from our mistakes and be free in His forgiveness. It is clear that He cares about our hearts. There is no "point of no return." Reading this, do you think you're still unforgivable?
Forgiveness in our Horizontal Relationship with Others:
Ephesians 4:32 (ESV) – "Be kind to one another, tenderhearted, forgiving one another, as God in Christ forgave you."
Luke 17:3-4 (ESV) — Pay attention to yourselves! If your brother sins, rebuke him, and if he repents, forgive him, and if he sins against you seven times in the day, and turns to you seven times, saying, 'I repent,' you must forgive him."
Colossians 3:13 (ESV) – "Bearing with one another and, if one has a complaint against another, forgiving each other; as the Lord has forgiven you, so you also must forgive."
Here, we see that forgiveness is a commandment. Not only are we to forgive others, but we are also to remember that we forgive because we were gifted with mercy from God through Christ.
If you still feel unforgivable after reminding yourself of these truths, then I encourage you to ask yourself a few questions:
Where did this message of shame come from? Does Scripture justify my feelings of shame?
How is this wound affecting my relationship with God? My relationship with others?
What types of thought patterns are pervading the way I see myself and my functioning?
You don't have to be stuck in this wound, and there is hope for you in getting unstuck. In fact, you have already been justified by Christ's blood and that makes you worthy of releasing yourself from the bonds of this wound of being unforgivable. If you need help with this wound or learning more about the concept of forgiveness, reach out to one of our therapists today!
-Mary Shea – https://surehopecounseling.com/mary-moussa-shea-child-therapy/