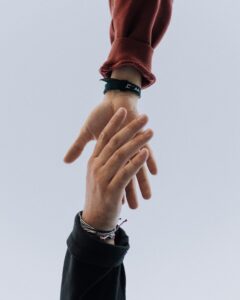 In our discussions of core wounds, we have learned that these wounds often propel us into believing that we are a mistake, undesirable, not worthy, insignificant, or even powerless.  Sometimes the source of these wounds is known to us.  Other times it is only sensed in how we feel about ourselves and how we interact with others.  In times of conflict, we may anxiously cling to our partner or we strongly push them away, but we aren't sure why.  If we do know why, we may struggle with bringing about desired change.  What I'm describing here is the impact that core wounds may have had on our attachment style, or how we connect with others.  If we look at our behavior through an attachment lens, we may see that in times of conflict, we only feel safe in withdrawing.  Or, we may find that the withdrawal of those closest to us causes us incredible distress, and we push harder and harder to get the answers we feel we need or to feel the surety of our relational connection.  In parenting, we may experience anxiety and, thereby, feel the need to control our children.  We may do our best to meet our child's needs, but have difficulty connecting with them on an emotional level.  These are all possible indicators of a struggle to create and maintain healthy, secure attachments.  Many who have trusted Christ as Savior and have a central desire to make Him Lord of their lives, find themselves continually striving to gain His approval.  Others busy themselves with the functions of the church and keep God at arm's length instead of focusing on a relationship with Him.  These behaviors may also be indicative of insecure attachments, which may be a result of core wounds.
You may be thinking to yourself that these core wounds happened when you were a child and run very deep, so how is healing possible?  Or, maybe you have experienced deep emotional hurt in more recent years, but have determined that your option is to live in the shadow of your hurt.  The amazing thing is that the God of the universe knows our struggles and promises that:
He "is our refuge and strength, an ever-present help in trouble" (Ps. 46:1, NIV).
"He heals the brokenhearted and binds up their wounds" (Psalm 147:3, NIV).
"We were therefore buried with him through baptism into death in order that, just as Christ was raised from the dead through the glory of the Father, we too may live a new life" (Romans 6:4, NIV).
It is possible to heal hurts through relationship. Through relationship with Christ, we can experience God's grace and the healing He brings to our brokenness.  We can learn to walk in the security and safety of His love.  Through relationships with others, we can explore and accept past hurts.  We can forgive those who have hurt us and repent for the hurt we have caused others.  We can then begin to form healthier connections with others.  This process of change may not be easy, but will likely be worth the effort.  Our wounds do not have to define us, but can be woven into the tapestry of our redemption story.
-Mickey Jensen – Learn more about Mickey here!