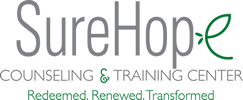 SureHope Counseling & Training Center wants to wish you and your family a very
Happy Thanksgiving!
The act of thanksgiving is one of the most important acts to practice when in comes to mental health.  There is so much research that shows adapting a lifestyle of gratitude is helpful in healing from anxiety, depression and trauma.  In the Bible, we are encouraged to practice thanksgiving often.  Let this Thanksgiving be more than a day of gratitude, let is be the start to living a lifestyle of Thanksgiving!
1 Thessalonians 5:18 – In every thing give thanks: for this is the will of God in Christ Jesus concerning you.
Philippians 4:6 – Be careful for nothing; but in every thing by prayer and supplication with thanksgiving let your requests be made known unto God.
Psalms 107:1 – O give thanks unto the LORD, for [he is] good: for his mercy [endureth] for ever.
Psalms 7:17 – I will praise the LORD according to his righteousness: and will sing praise to the name of the LORD most high.
Psalms 100:1-5 – (A Psalm of praise.) Make a joyful noise unto the LORD, all ye lands.   (Read More…)
Ephesians 5:20 – Giving thanks always for all things unto God and the Father in the name of our Lord Jesus Christ;
James 1:17 – Every good gift and every perfect gift is from above, and cometh down from the Father of lights, with whom is no variableness, neither shadow of turning.
Matthew 6:25-34 – Therefore I say unto you, Take no thought for your life, what ye shall eat, or what ye shall drink; nor yet for your body, what ye shall put on. Is not the life more than meat, and the body than raiment?   (Read More…)
Isaiah 12:1-6 – And in that day thou shalt say, O LORD, I will praise thee: though thou wast angry with me, thine anger is turned away, and thou comfortedst me.   (Read More…)
Psalms 50:14 – Offer unto God thanksgiving; and pay thy vows unto the most High:
Hebrews 13:15 – By him therefore let us offer the sacrifice of praise to God continually, that is, the fruit of [our] lips giving thanks to his name.
Colossians 3:15 – And let the peace of God rule in your hearts, to the which also ye are called in one body; and be ye thankful.
Psalms 116:12 – What shall I render unto the LORD [for] all his benefits toward me?
Lamentations 3:23 – [They are] new every morning: great [is] thy faithfulness.
Psalms 136:1 – 127:26 – O give thanks unto the LORD; for [he is] good: for his mercy [endureth] for ever.   (Read More…)
2 Corinthians 2:14 – Now thanks [be] unto God, which always causeth us to triumph in Christ, and maketh manifest the savour of his knowledge by us in every place.
Psalms 95:1-6 – O come, let us sing unto the LORD: let us make a joyful noise to the rock of our salvation.   (Read More…)
Psalms 31:19 – [Oh] how great [is] thy goodness, which thou hast laid up for them that fear thee; [which] thou hast wrought for them that trust in thee before the sons of men!